Effective cleaning of washing baths with BELKI filter technology
The filtration and separation of tramp oils makes an important contribution to the economical operation of parts washing systems. With its oil separators, BELKI offers effective and reliable solutions for end customers and manufacturers of parts washing machines.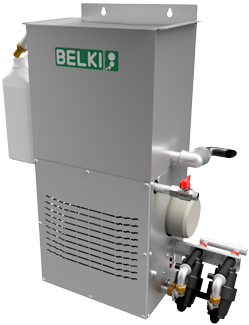 BELKI oil separators are used to separate tramp oils out of washing baths and other process fluids such as coolant, and in degreasing baths. The functionality provided by BELKI oil separators also offers a whole series of benefits:
A self-regulating suction unit, which effectively is skimming material off the surface
The suction unit automatically follows the level variation in the tank
Gentle pumping achieves a high level of oil separation
Easy to adjust, so that only oil runs into the collection container
With an array of different surface suction devices, even difficult and heavily contaminated surfaces can be skimmed. BELKI also offer solutions for grease and even large build-up of foam. The specialists at BELKI always try to analyse and understand the process, in consultation with the customer, taking account of the type of system, the cleaning chemistry, pH value, temperature and the washing cycle.
BELKI views itself as a partner and adviser to manufacturers of part washing machines as well as to the end customer. Starting with its oil separation products, BELKI offers a wide range of treatment and filtration technologies for process fluids, from deep bed band filtration and magnetic filtration up to central treatment plants.
When it comes to fine filtration, BELKI often uses magnetic belt filters, which can eliminate the finest ferritic particles from washing baths and other process fluids without using a filter medium.
Trade fair publication from parts2clean, Germany

---
BELKI Check System and industry 4.0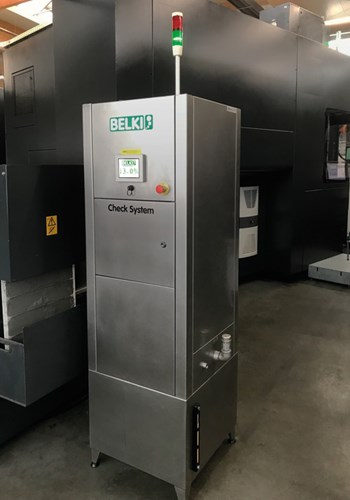 The tasks facing the companies increases with the requirements of Industrie 4.0. More transparency, more automatisms and more networking are some of the relevant key words.
The BELKI Check System (BCS) is used on centralized or regional coolant systems where process management is important. The BCS is designed for continuous monitoring, adjusting and recording of the fluid properties. There are two system options, the local system or the remote monitoring system.
The BCS automatically maintains the preset concentration level. The system stores any desired value. The stored data enables the operator to evaluate fluid and operation parameters. With the BCS system it is possible to measure and record a large number of parameters.
Press release for GrindTec, Germany