Central system
Reliable, customized by-pass or full-flow central systems that contain multiple filtration and oil separation steps. Each central system is adapted to the customer's application and needs.
Watch video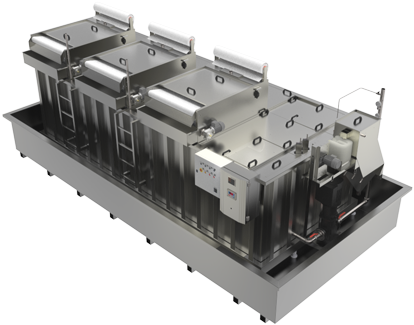 ---
Application of a Central System
BELKI's Central systems are modular and adjustable for every requirement. These may be small regional stand-alone units which supply a group of machines, or it may be a large unit which supplies an entire plant.
Taking our basic equipment as a starting point, we design and build central systems which are effective, environmentally friendly and economic. BELKI's Central systems are adapted to our customers' demands, as we recognise that they often have unique needs and problems. BELKI has therefore specialised in rapidly and effectively developing essential and supplementary equipment. If necessary, the central system will be adapted to the building's physical.
Operation of a Central System
Central systems can be installed in productions that have more grinding- or CNC turning and milling machines in use. The coolants/lubricants are pumped from each machine to a central system and are cleaned for the unwanted particles and tramp oil. The central system is equipped with the necessary filtration stages dependent on the process, local conditions and requirements for purity.
Depending on the application, different filtration levels are used. For the classical cleaning of cooling lubricants, this is essentially the particle filtration via deep bed belt filters – often combined with the magnetic filtration – and the oil separation. The effectiveness of oil separation can be supported by micro flotation.

In grinding processes, systems with a scraper tank are used to clean the grinding fluid in the central system. For fine filtration, hydro cyclones and automatic magnetic filters are used.

In any case, a central system offers the possibility of automatic top-up and adjustment of the concentration in the coolant concentrate. If desired, concentrations and other parameters such as pH-values, conductivities, water consumption, etc. can be recorded and evaluated.

We supply by-pass and full-flow solutions, or a combination.
---
Advantages of a Central System
BELKI's Central systems are reliable, have high process efficiency and require low maintenance. The impact gives obvious results such as:
Extended lifetime of the process fluid
Fewer maintenance hours in the production
Longer lifetime for tools
Improved product quality
Cleaner working environment and less waste disposal
Designed in stainless steel, lower maintenance costs and longer lifetime
Better results on the bottom line
How can we help you?
Are you looking for a central filtration of your coolant lubricant? Do you need additional information about the technical possibilities and processes? Our competent team is always ready to advise you about centralized systems and to answer your questions. Please do not hesitate to contact us...
Working principle of a Central System
---
Central System for turning and milling
The central systems are dimensioned from which principle is to be used (full-flow/by-pass). The advantages from the two principles are carefully discussed before the final and best solution is decided.
The central systems can be built with: BELKI Check System, deep bed band filter, magnetic filter, micro floatation and an oil separator.
The most significant problems that are solved are the removal of tramp oil, chips and particles.
2x 20 m³ Central System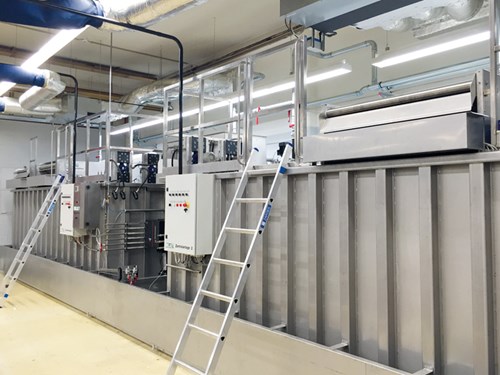 ---
Central System for grinding
The most important parameters are the quantity of grinding sludge and the requirements for purity (nominal particle size). In addition, it is important to know which material is being grinded and the material of the grinding wheel (CBN, Corund). On this basis the right number of steps in the filtration process is decided.
The central systems can be built with: a scraper tank for sedimentation, paper filter, magnetic filter, hydro cyclones and clean tank.
The most significant problem that is solved is the removal of particles so that the quality in the grinding process is maintained.
Scraper tank with hydro cyclones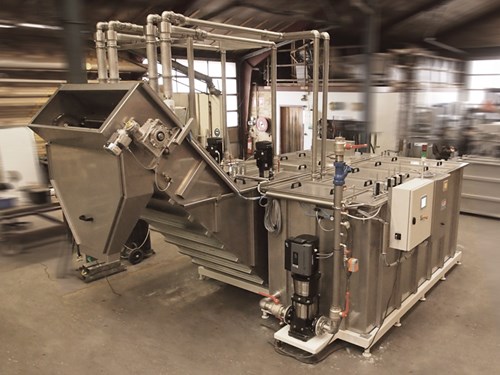 ---
Central Systems / Central Plants / Central Filter Plants
Centralized system (also known as central plants, centralized systems, central filter plants or central cooling lubricant plants) are the most sensible way of filtering, processing and providing process fluids for metal processing. Cooling lubricant emulsion and cutting oils are stored, filtered and supplied to the machine tools in central systems by suitably selected tank and filter systems. All functions of filtration, oil separation, cooling and supplying are combined in central systems. Maintenance work on each individual machine tool tank is thereby minimized.
Essential advantages in fluid management is achieved by the use of the central systems. There are significant time savings and significantly reduced consumption of cooling lubricants. Especially time consumption for checking and refilling or even exchanging the process fluids. This can be done in a central system rather than at the tank of each individual machine tool.
---
---