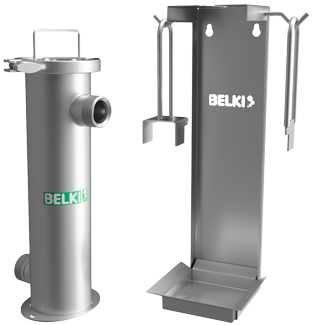 Ultra Mag with cleaning station
BELKI's effective inline magnet filter for filtering fine ferromagnetic particles. Can be mounted on existing pipe strings.
Watch video
Mobile Ultra Mag
Mobile inline magnet filter from BELKI, which can be used on multiple machines in a production hall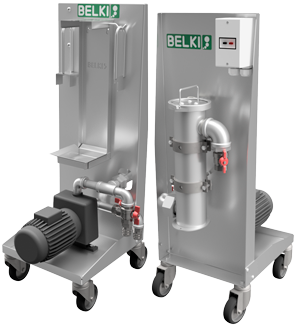 ---
Area of use
The BELKI Inline Magnetic Filter is applied for filtering out the smallest ferritic particles and solids from coolants, hydraulic fluids, lubricants and various other industrial metal working fluids. The BELKI Inline Magnetic Filter can be used in various machining applications such as: honing, grinding, parts washing, etc.
Operation
The fluid flows on its way through the pipe close by a strong magnetic rod, where the magnetic particles are captured. The magnetic field is created by powerful rare earth magnets. The BELKI Inline Magnetic Filter can be delivered with a cleaning station, ensuring fast and easy maintenance and cleaning.
---
Advantages
Removal of the fine particles ensures better product quality and reduced operating costs
Small footprint and no use of consumables
Extended lifetime of process fluid and for tools
Reduced disposal costs and downtime
Reduced maintenance costs
Improved product quality
Easy to clean with cleaning station
Mobile version for added flexibility
Range of inline magnetic filters
---
Technical specifications for inline magnetic filters
| Type | Item nummer | Capacity (l/min) | Contamination (kg) | Connection (") | Number of cores | Material |
| --- | --- | --- | --- | --- | --- | --- |
| Ultra Mag 1 | T274-000-070 | 100 | 1 | 1" | 1 | EN1.4301 |
| Ultra Mag 3 | T221-000-030 | 250 | 3 | 1 1/2" | 3 | EN1.4301 |
| Ultra Mag 3-600 | T221-100-040 | 250 | 6 | 1 1/2" | 6 | EN1.4301 |
| Ultra Mag 3 mobil | T221-000-060 | 250 | 3 | 1 1/2" | 3 | EN1.4301 |
---
Working principle of inline magnet filter