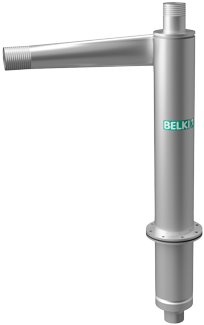 Hydrocyklon
BELKI hydrocyclone for the separation of fine particles from fluids. The particles are filtered by the weight difference between the fluid and the particles. No moving parts.
Hydrocyklon HD
Heavy duty hydro cyclone from BELKI for the separation of particles from fluids. Is used in strong contamination with abrasive particles.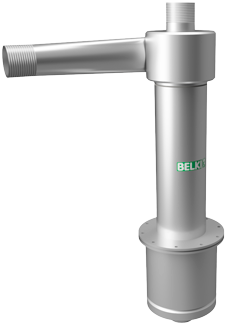 ---
Area of use
Hydro cyclones are used to separate particles from fluids. They are able to handle large volumes of fluids with small particles. Hydro cyclones can be used for fluids up to 3 cSt.
Operation
Common use of hydro cyclones is for grinding fluids. Separation of sand from water is another example of common use.
---
Advantages
The separation of particles from large volumes of fluid is possible with a hydro cyclone. The BELKI hydro cyclone has a patented inlet pipe, which enables the inflow of the fluid to go directly into rotation without creating turbolence inside the hydro cyclone. The BELKI hydro cyclone can be delivered in standard and heavy duty editions.
The heavy duty version is used for abrasive media, e.g. abrasive fluids with particles from abrasive tools. The heavy duty version generally has larger wall thicknesses and also a swirl brake at the bottom which reduces the wear on the hydro cyclone.
---
Technical specifications for hydro cyclones
| Type | Item nummer | Capacity (l/min) | Inlet (") | Pressure drop (bar) | Max. pressure (bar) | Material |
| --- | --- | --- | --- | --- | --- | --- |
| 06-60 ST | T70-006-600 | 50-70 | 3/4" | 1-2 | 10 | EN1.4301 |
| 06-60 HD | T70-006-600-1 | 50-70 | 3/4" | 1-2 | 10 | EN1.4301 |
| 07-70 ST | T70-007-700 | 70-100 | 1" | 1-2 | 10 | EN1.4301 |
| 07-70 HD | T70-007-700-1 | 70-100 | 1" | 1-2 | 10 | EN1.4301 |
| 08-80 ST | T70-008-800 | 100-150 | 1 1/4" | 1-2 | 10 | EN1.4301 |
| 08-80 HD | T70-008-800-1 | 100-150 | 1 1/4" | 1-2 | 10 | EN1.4301 |
| 09-90 ST | T70-009-900 | 150-250 | 1 1/2" | 1-2 | 10 | EN1.4301 |
| 09-90 HD | T70-009-900-1 | 150-250 | 1 1/2" | 1-2 | 10 | EN1.4301 |
| 10-100 ST | T70-010-1000 | 300-400 | 2" | 1-2 | 10 | EN1.4301 |
| 10-100 HD | T70-010-1000-1 | 300-400 | 2" | 1-2 | 10 | EN1.4301 |