Filter system (BFA)
Modular filter systems for the filtration of coolant lubricants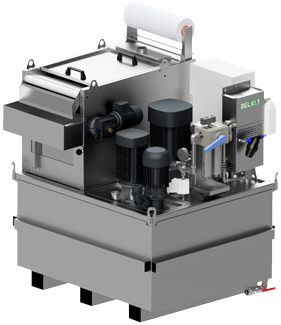 ---
Application of a Filter System (BFA)
The BELKI filter system BFA150 is used to filter coolant lubricants from machining processes. The filter system can be configured and equipped with a magnetic filter, high-pressure pumps, an oil separator and a chiller as required.
Operation of a Filter System (BFA)
In its basic configuration, the filter system consists of a BELKI deep bed band belt filter and an emulsion tank with a volume of 920 liters. From this, the system can be configured with pumps, magnetic filters, etc., according to the customer's requirements. The pumps are activated via the machine's control system, from which the pressure setting of the screw pumps can also be controlled continuously. In addition to the basic equipment, extensions are possible such as oil separators, chiller and magnetic filters, which are very effective in the machining of cast iron.
---
Advantages of a BELKI Filter System (BFA)
Continuous filtration of the coolant lubricant offers a wide range of advantages in terms of quality, reliability and working environment. A BELKI filter system is modular and can be adapted to the customer's needs. It is also possible to retrofit equipment if the requirements change in the course of the machine's operating time, or if changes occur in the production process.
The filter system is designed in such a way that all filters, pumps etc. are mounted on a steel frame with lifting eyes. In this way, all components can be lifted off and reassembled, for example with a crane. Neither pipes nor cabling have to be separated. This makes the cleaning of the filter system easier.
How can we help you?
Are you looking for a flexible filtration system which can be customized according to your requirements? Do you need additional options such as an oil separator, cooler or a magnetic filter? Our modular filter system is the right choice for you. Our competent team will be happy to assist you.
BELKI Filter System (BFA)
The BELKI filter system BFA150 is designed for filtration of coolant lubricants from machining processes. The filter system has a modular design and can, if required, be configured and equipped with magnetic filters, with various pumps (for machine supply, internal cooling and flushing), and oil separators or coolers. Additional extensions can be added according to customer requirements.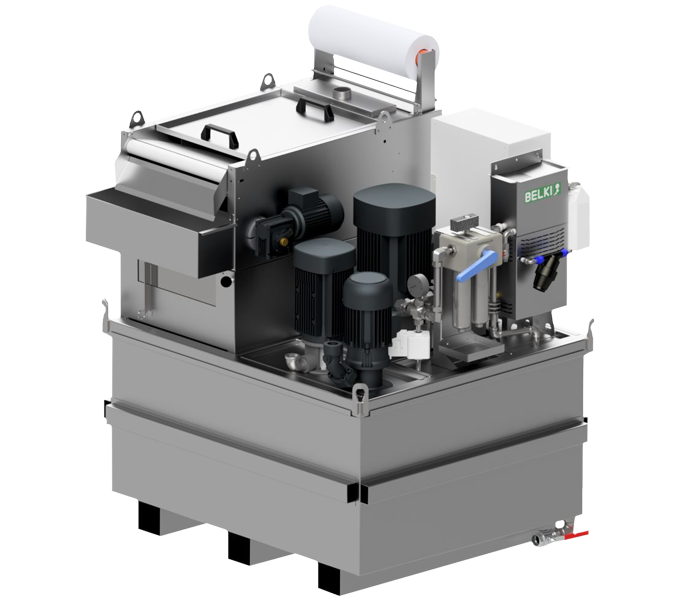 ---
Technical specifications for BELKI Filter System (BFA)
| Type | Item nummer | Capacity (max l/min) | Filter surface (m²) | Degree of filtration (µm) | Acidity (pH) | Temperature (°C) | Connection (V/Hz) | Material | Length (mm) | Width (mm) | Height (mm) |
| --- | --- | --- | --- | --- | --- | --- | --- | --- | --- | --- | --- |
| BFA150 | BFA150 | 150 | 0,35 | 20-80 | 5-10 | 20-60 | 3x400/50 | EN1.4301 | 1379 | 1381 | 1714 |